I'm still sick. I'm still producing endless snot. I still have a ginormous stack of stuff to do at work. Any sensible person would've gone home early and rested.
I'm not sensible.
We went to the
Arcade Fire
concert tonight at the
Greek Theatre
. Call it a musical prescription for my cold. The band was excellent. This is the fourth time we've seen them (previously, we saw them at Inland Invasion, Vegoose, and Coachella) and the first time we've seen them headline. What a treat!
I love watching this band perform. Very few bands these days are so musically innovative and numerous in members. Arcade Fire consists of seven semi-regular members and tours with an extra three musicians. Instruments used include the usual guitar, bass, drums, and keyboard; the less usual saxophone, trumpet, tuba, clarinet, French horn, violin, double bass, organ, and xylophone; and the almost unheard-of accordion, celeste, and hurdy gurdy.
Seriously.
A hurdy gurdy
.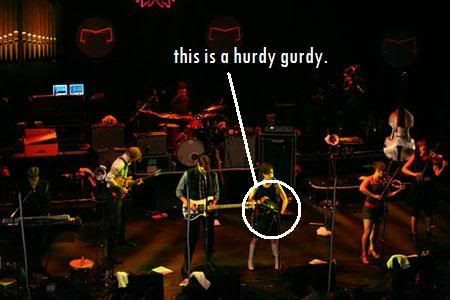 That makes 10 peeps running around, going crazy onstage. And I'm not exaggerating when I say "going crazy." The hubs and I always enjoy seeing Richard Reed Parry (we call him "the redhead dude") go nuts and bang on everything on the stage, whether or not that thing banged on is actually an instrument. We're talking the ground, speakers, other band members, anything. It really must be seen to be believed.
Frontman Win Butler was commanding and welcoming at the same time, while his wife Regine Chassagne was totally bizarre and charming, as always. (She's the one who plays the accordion and hurdy gurdy, among other instruments, and encourages Win to compose with atypical chord progressions.)
The best performances of the night included the energetic and fun "No Cars Go" from the band's latest album
Neon Bible
, the epic "Intervention" also from
Neon Bible
, and the back-to-back-to-back melding of "Neighborhood #3" and "Rebellion (Lies)" from the band's first album
Funeral
and "Keep the Car Running" from
Neon Bible
. Oh! And the encore performance of "Wake Up" was so uplifting and exciting that it got a bunch of old people out of their seats and dancing. I guess I liked the concert so much that it's hard to pick favorites.
And I get to see them all over again tomorrow night. No rest for the wicked!