Our wonderful officiant (our friend in common who set us up six years ago) got married a couple of months before we did.
And, boy, was his wedding a tough act to follow.
I could post dozens of pictures of the insane enormous hanging centerpieces (just one of four different types of centerpieces, which were all huge), sliders and sushi cocktail hour stations, the triple dessert dessert dessert (I never thought you could have too much dessert, but this wedding proved me wrong), and the crazy grey-haired middle-aged white bandmember who did a seriously great Ludacris impression. It was...well...ludicrous!
But what made the most lasting impression on me?
The ladies' room!
I think the pictures speak for themselves.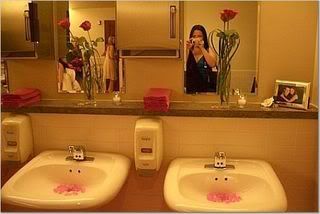 That girl in the last photo is thinking, "Why the hell is this weirdo taking pictures of the bathroom?"
Further proof that you lose your mind when you're planning your wedding.