Do I do anything aside from
watching movies
? Yeah. But I really really like movies. A lot. We saw three this weekend. Here's the wrap-up:
Children of Men: I liked this movie. I knew little to nothing about it before going in, which was a good thing because I really dislike science fiction and probably wouldn't have seen it had I known it was a "futuristic" film. It's set in 2027 and has an interesting concept. I'll leave it at that. Don't let the sci-fi label deter you. Clive Owen is great, and the film has the wonderful dark quality that I've come to expect from Alfonso Cuarón.


Dreamgirls: Aside from The Sound of Music, I'm not a big fan of musicals. Thus, it's a big deal that I enjoyed Dreamgirls. I knew the major players could sing (i.e., Beyonce, Foxx, Murphy, and Hudson), but I was still impressed while watching the film. Count me as one of the many admirers of Jennifer Hudson! The story was was poignant and the acting strong. While I'll still be cheering for The Departed, I think Dreamgirls is deserving of its hype. The funny thing is that the hubs hated it!


The Pursuit of Happyness: Sap, sap, sap...and more sap! I love Will Smith, but this flick really should've been a brief life interest piece on a news magazine show or an hour-long made-for-TV movie at best. Jaden Smith (Will Smith's son in real life) is cute as a button, but even this adorable little tyke couldn't save the movie from being a total schmaltz-fest. If you must see it, wait for the DVD. Otherwise, I say skip it altogether.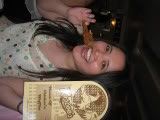 Addendum:
The hubs was so pissed off about having to "waste two hours of his life" watching
Dreamgirls
that I took him to
Roscoe's House of Chicken 'n' Waffles
for dinner. Only after eating a Country Boy plate and a side of mac 'n' cheese did he finally shut up about how much he hated
Dreamgirls
.A happy hubby = a happy monkey. Thank you, Roscoe's.