King Taco
and game shows? What could be better? Not much, except, perhaps actually being on the shows. Since my win on
Pyramid
(the short-lived version hosted by Donny Osmond) back in November 2002 ($11,500 to be precise), I've been aching to get on another show. Tonight, I watched two shows that are right up my alley, and, tomorrow night, there may be another contender.
In the tradition of
Wife Swap
and
Trading Spouses
or
Supernanny
and
Nanny 911
, the networks have once again spawned copycat shows. Debuting tonight on NBC was
The Singing Bee
, hosted by Joey Fatone. Tomorrow, Wayne Brady emcees
Don't Forget the Lyrics
on FOX.
As I munched on my carnitas burrito, I played along with
The Singing Bee
tonight. It's really a hit-or-miss endeavor. I knew the precise lyrics to all but two songs in the episode, so conceivably I could've won, but, of course, had I run into either of those songs, I would've been eliminated. In any event, the jackpot is only $50,000, and I didn't find the show particularly compelling. I'm hoping that FOX's version is better and offers a higher potential payday.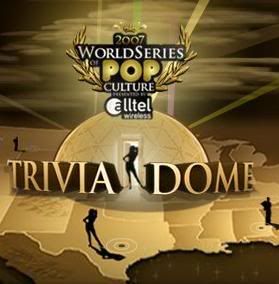 After my burrito, I tuned into the
2007 World Series of Pop Culture
on VH1. Most of the questions are pretty easy, but some are real stumpers. I really enjoyed this show last year, so I'm glad this is back! The only drawback of this show is that you must depend on two teammates, which, while fun, can also be frustrating. I think I'd rather just depend on myself. Nix.
Don't Forget the Lyrics
, please be good, please be good....