We went to lunch on Sunday with Mr. Monkey's family at
Curry House
in Little Tokyo (which we do a lot, since Mr. Monkey's dad really likes that place -- it's close, fast, and tasty enough). Afterward, we headed to
Marukai
to get fun Japanese snacks and treats. We got the usual stash of
Yakult
(only $0.68 for a 6-pack!),
Calpico
(in handy-dandy Capri Sun-like poke-able individual pouches!),
Pocky and Pretz
, a whole host of crunchy
Calbee
munchies (only $0.88 for full-sized bags!), cheap generic
genmaicha
($3.29 for 60 bags!), pre-made
udon
, and individually pre-packaged
mochi
(chestnut filling today!).
But it's always fun to make a new discovery. Mr. Monkey's brother piqued our interest when he grabbed this:
The Monkeys had the same reaction at the same time: "Those...those...look like...POO!" Mr. Monkey's brother laughed and assured us that the poo crackers were delicious, so, of course, we added a bag of poo crackers to our tower o' Japanese snacks. Here are some oh-so-appetizing pics, so you can see why we had the reaction we did.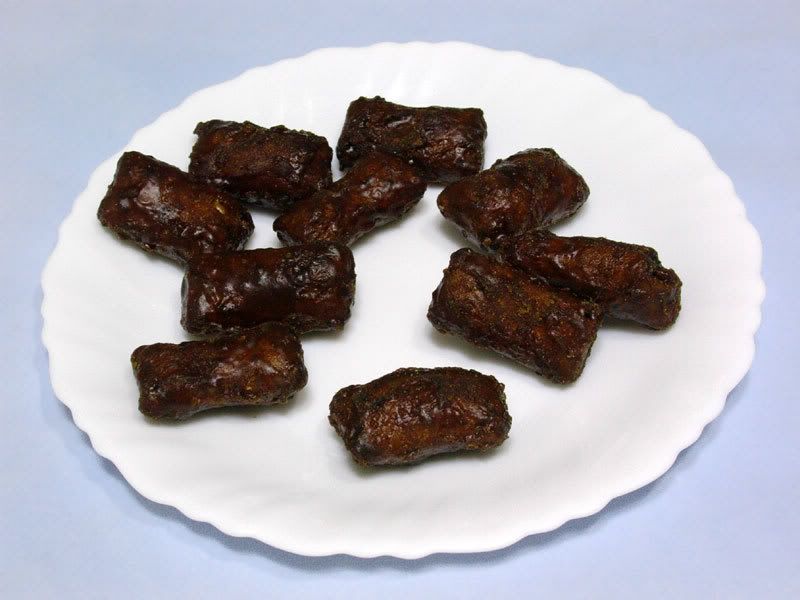 Even putting these little suckers in a handpainted pot doesn't make them any cuter. Yup. Still looks like poo. In a pot.
Now, what exactly are these poo crackers? Well, they're not poo. And they're actually more like cookies than crackers. They are called
karinto
. Ingredients include wheat flour and brown sugar. Wikipedia also informs me, "Karinto has been available from street merchants since at least the Edo-Tempo period, roughly 1830 to 1841." If poo crackers have been around for over 150 years, they must be good, right?
Conclusion: I am not a fan of the poo crackers, although I had a glorious time eating three turds, all the while snickering as I shoved the brown nuggets into my mouth. It was a miracle that I didn't choke because I chortled the whole time. Come on! It looked like I was eating poo! Mr. Monkey liked the karinto. After his first one, he proclaimed, "Hmm. Pretty good poo!"
Karinto are crunchy outside and sort of slightly chewy inside with lots of air pockets. The inside is somewhat like spun sugar but not quite as light and not nearly as sticky. The sweetness resembles that of molasses or maybe burnt honey, if there is such a thing.
Man, I can't even type this with a straight face. All I can think of is that I just ate three pieces of poo, and Mr. Monkey is well on his way to finishing the bag of poo. I just looked over, and he flashed me a fa-poo-lous, poo-pendous, specta-poo-lar smile, complete with brown bits stuck all over his teeth.
Do I regret buying the poo crackers? Hell, no! The entertainment value was well worth it. I've been laughing about these little blobs for hours now. Hours! Would I buy them again? Yes! Probably not to eat myself, but I would buy them to put in a bowl and serve them as a joke. Maybe I'll bring some to work tomorrow. I'm giggling already.