Remember that old Mervyn's commercial? The one where the crazy lady gets to the store long before it opens and chants, "Open, open, open!" whilst sticking her face and hands up against the glass?
I often feel this way when I see new storefronts going up. Here are two current targets of my "open open open" chanting:
PICCOMOLO ITALIAN ICE CREAM
After our
Marukai run on Sunday
, we walked to
cé fiore
for yogurt. On our way there, we spied bright orange signs heralding the imminent arrival of
Piccomolo Italian Ice Cream
. Whee! A new contestant in the
Battle of the Frozen Treats
!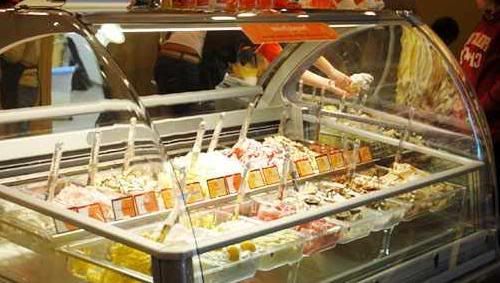 Fat-free yogurt, this is not.
Piccomolo
is marginally better for you than
Cold Stone Creamery
or
Baskin-Robbins
, but it's not exactly diet-friendly. Bah! I plan to throw caution to the wind when
Piccomolo
finally comes to town. It will be a nice creamy change of pace. With
over 30 flavors
, it will surely take me a long time to sample all this gelato! According to its website,
Piccomolo
's gelato is "made fresh in store everyday with all natural ingredients" and does not contain "butter fat, heavy cream, or egg product."
Piccomolo
also offers gelato cakes, "made with delicious gelato and freshly baked sheet cake."
Piccomolo
currently has locations in Encino, Old Town Pasadena, and Pacific Palisades. Sadly, I don't know when exactly the Little Tokyo shop will open. I guess we will have to keep walking past it and cross our fingers that it's soon!
VANILLA BAKE SHOP
According to promotional copy, the treats at Santa Monica's
Vanilla Bake Shop
will be "inspired by the desserts [Amy Berman's] mother made when she was younger." The shop will feature cakes and cupcakes in flavors like vanilla bean, red velvet, spicy carrot, banana chocolate chip, toasted coconut, and strawberries and cream. The shop will also sell "old-fashioned icebox treats." I'm not really sure what these are, but I'm eager to try! [UPDATE: I now know that an icebox dessert is one that must sit a few hours in the fridge before it's done. You can see Martha's take
here
.]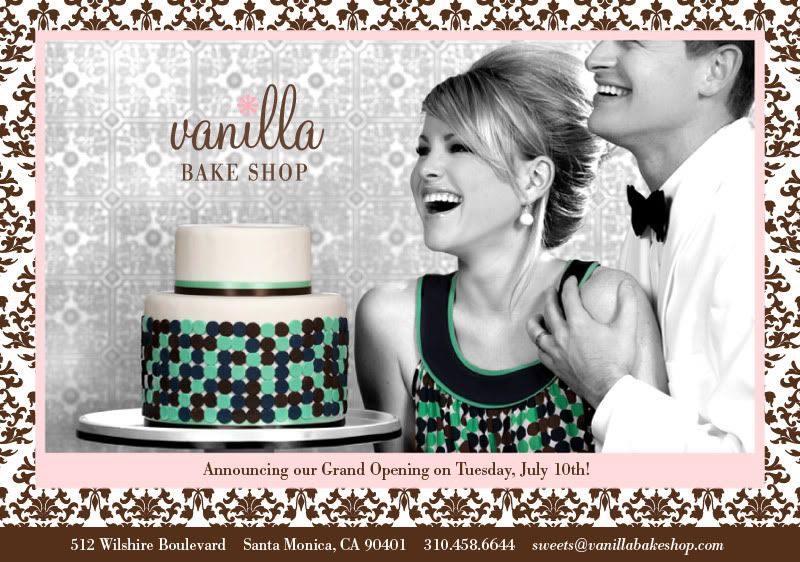 In addition,
Vanilla Bake Shop
will offer full-service catering for weddings and special events. If their goods are even remotely as cute as their nascent website, I will be very excited to try this place! I'm a sucker for good packaging.
Vanilla Bake Shop
's grand opening is next Tuesday, July 10.
Open, open, open!