8 Against 8
is a campaign of eight lesbian bloggers who have "come together in a unified and collaborative effort to help place the discriminatory ballot initiative called Proposition 8 in its rightful place in the dust heap of history."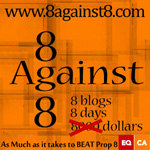 My pals at Grace the Spot (

i.e.

, the geniuses behind Stuff Lesbians Like) are one of these eight! If you haven't already donated to the cause, please consider doing so here. This is way too important to hope that other people do their part. Do yours!