Mr. Monkey
saw Tim Gunn in our 'hood about three weeks ago
.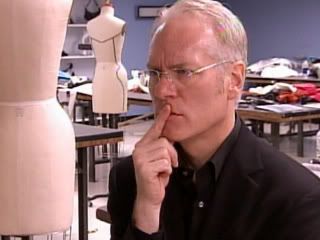 Today we both saw him.
While I was sleeping this morning, Mr. Monkey was enjoying the sunshine on our balcony and spied
Tim Gunn
carrying two cups of coffee four stories below.
The second sighting (yes, in one day) was this afternoon. From our car, we spotted him walking across the street. He was too far for me to yell any catchphrases. Sad.
We are now convinced that at least one of the following is true:
(1) Tim Gunn is working on some project at
FIDM
.
(2) Tim Gunn has a personal work studio somewhere close.
(3) Tim Gunn lives near us.
As crazy as it sounds, I think #3 is a real possibility, as there is no reason for
Tim Gunn
to be sauntering about our area on a Sunday. This could very well be his home away from home.
I plan to walk around and around and around until I see him face-to-face.
UPDATE:
This
might explain our frequent Tim Gunn sightings! I am still going to canvas the area. Thank you for your comment, Michelle!