It's almost 2:30 a.m., and I totally can't sleep, which is sort of insane because really it's almost 3:30 a.m., in light of the recent time change. I have dire body clock issues. My brother is also a fellow night owl. Like
our shared test-taking gene
, perhaps this condition is hereditary.
As some of you may know, Brother Monkey is a young comedy writer who has written for a late-night talk show, an animated series, and a few awards shows. (Yeah, that's right. He uses his
magna cum blah blah blah
intellect to compose sophomoric quips. My parents are thrilled out of their minds, of course. That's
sarcasm
if you didn't catch it. Poor Mama and Papa Monkey. They thought Brother Monkey would cure cancer. Instead, he makes Paris Hilton jokes.)
Unless you've been living under a rock, you are probably well aware that the
Writers Guild of America
Minimum Basic Agreement expired on October 31, 2007, and contract negotiations with the
Alliance of Motion Picture and Television Producers
broke down, mainly over the issue of residuals. If things aren't resolved soon, we shall all be wallowing in reruns and reality TV in a few months.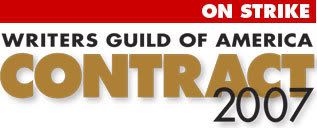 I got this e-mail from Brother Monkey earlier tonight:
i keep meaning to call you and then forgetting. today we went on strike. i picketed paramount studios, which is three blocks from my house. my strike group was almost entirely comprised of my friends who went to harvard and stanford. tomorrow more harvard people are going to join us at paramount. people i know were picketing fox, nbc, abc, rockefeller center, hollywood center studios. ugly betty picketed with us for like five minutes and then she left. one time we blocked a range rover from entering the studio and the driver turned out to be courteney cox.

i should've gone to europe to tour with torry. she is in london tonight and on her way to paris.

love you,
brother monkey

What different lives we lead. The most exciting thing about my day was toffee. Toffee! Meanwhile, he is Cox-blocking. I hope he takes pictures tomorrow.