Today I got a call from Layers Cake Design Studio informing me that our free anniversary cake was ready! Since we're leaving tomorrow morning for the Oregon coast, Mr. Monkey went to pick up our cake this afternoon.
Our baker Janelle Paige and I had spoken with each other about six months ago. She said that numerous couples had contacted Layers after having seen the cake she had made for us on
The Knot
, and she thanked me for writing such a nice review of Layers. I thanked
her
for designing such a visually stunning and drool-inducing yummy-nummy cake!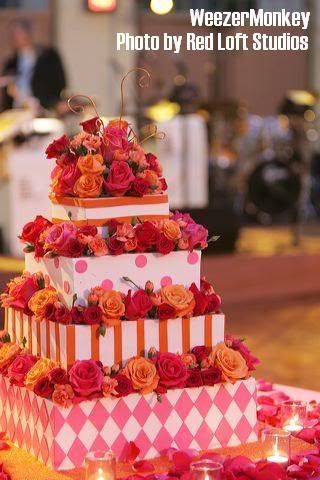 Janelle told me that she would be making a very special anniversary cake for us -- something a little different from the usual, something a little
more
.
WOW!
Once again, Layers really outdid itself! A "little more" turned out to be a
lot
more! So much more that there was no way Mr. Monkey and I could eat it all ourselves! This was a not-so-small replica of our wedding cake. Really, the only difference was the size and the use of frosting flowers instead of real flowers. Janelle even reproduced the cool orange sugar crystal base. Just amazing!
People could smell the cake as they walked down the hall. The wondrous aroma was that powerful and alluring. My friends who had come to our wedding were very excited to re-live their espresso chip or luscious chocolate experience, and other co-workers tasting the cake for the first time raved, too.
So here is yet another rave from me for Janelle Paige and Layers Cake Design Studio. Janelle is so creative, warm, and talented. The card accompanying our anniversary cake was so thoughtful. The cake was just incredible. Janelle and Layers are beyond marvelous. I highly recommend them for your all of your cake needs -- wedding or otherwise!
Janelle Paige
Layers Cake Design Studio
13944 Ventura Boulevard
Sherman Oaks, CA 91423
(818) 784-3918