Last night, we went to the
Gwen Stefani
concert at the Verizon Wireless Amphitheater. My husband's brother's wife's brother's wife couldn't go and couldn't find anyone else to take her tickets. Many degrees of separation were crossed, and apparently nobody in their circle of friends likes Gwen.
Lucky for my husband's brother's wife's brother's wife, I loooooooooove Gwen.
Actually, that is not exactly true. I super puffy heart
No Doubt
. I've been a fan since "
Trapped in a Box
" was released as a single. I was there when they started touring small clubs before
Tragic Kingdom
hit it big. I've seen them over a dozen times since 1994.
Now, Gwen? I do adore her. She is cute, fashion-forward, and powerful. But I'm not
really
a huge fan of her solo work. Seriously, how do you go from this...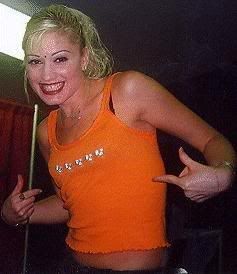 To this?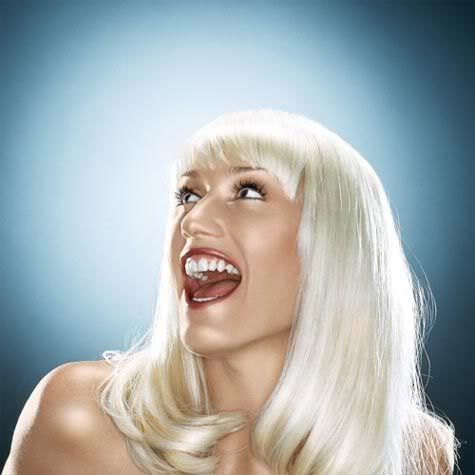 It truly boggled my mind. Heck, it upset me. I felt sad that Gwen abandoned her ska roots and started mixing beats with
Pharrell
like every other flash-in-the-pan teenybopper played on
KIIS
. KIIS! Gwen, you're on KIIS now! For shame.
Nevertheless, I was happy to take the free tickets. As many of you know, I'm happy to take free anything.
Gwen put on a fun show. I was excited to see both Stephan Bradley (trumpet) and Gabriel McNair (trombone) in her crew; they've toured with No Doubt for years. For what it was, Gwen's solo show wasn't
great
. The choreography and special effects paled in comparison to those of the Justified/Stripped show I saw a few years ago. (Yes, that was free, too. You really think I'd pay for a Justin Timberlake and Christina Aguilera show?)
I thought Gwen's Harajuku Girls weren't very good at all (not to mention, I found them rather disturbing in their perpetuation of submissive stereotypes, twirling parasols for the enjoyment of the male dancers dressed as businessmen). Love, Angel, Music, and Baby (yes, those are the aliases of the girls -- insert eye roll here at the unabashed marketing ploy) were totally not in unison, their movements neither crisp nor hard-hitting. Maybe I've just been spoiled by
So You Think You Can Dance
. Maybe I was just jealous that those Asian girls were on a world tour instead of drafting motions.
When Gwen finished the main set, I thought, "Hmm. She already played all of her hits. What is she going to play for an encore?"
Then I heard the first bars of the song I played over and over and over again my sophomore year of college. That unmistakable opening riff in D major....
Tony!
Tom!
Adrian!
I went nuts. TOTALLY NUTS! I was so ecstatic that I almost started crying tears of joy! I jumped up and down the entire time during "Just a Girl," "It's My Life," and "Spiderwebs." I was such a sweaty monkey after that, grinning ear to ear. Those three songs made my night.
A new No Doubt album is in the works. The boys are back in town.