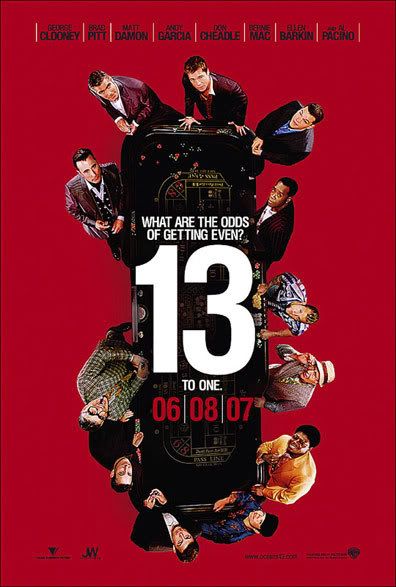 My brother, his girlfriend, the hubs, and I saw
Ocean's 13
and
Knocked Up
today. I liked both. Neither was outstanding. Far from. I was, however, sufficiently entertained.
[Slight spoilers to follow.]
Ocean's 13
was little more than George and Brad mugging for the camera, but, of course, that was pretty enjoyable. I think my brother pointed out the main reason why the movie wasn't particularly compelling -- the boys were just doing what they were doing for revenge's sake. There was no heist. It's all about the heist, damn it! Nevertheless, the flick was slick. I don't feel bad for having paid to see it, although my brother's girlfriend might. She fell asleep! Oh well.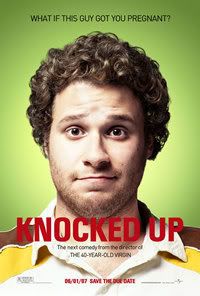 Knocked Up
was remarkably similar to Judd Apatow's other hit,
The 40-Year-Old Virgin
. In what way? Good jokes and banter followed by sap, sap, sap. I could do without the sap, but I guess Apatow is smart to include it. This way he gets the money of what I call The Stupid Girl Awww Contingency. These are girls who love stuff like
Titanic
,
Love Actually
,
Pretty Woman
,
Beaches
,
Fried Green Tomatoes
,
Divine Secrets of the Ya-Ya Sisterhood
,
The Bridges of Madison County
,
Bridget Jones's Diary
,
Notting Hill
,
When Harry Met Sally
, and
Sleepless in Seattle
(oh, hell, these girls eat up anything with Meg Ryan).
Me? Not so much.
Thankfully,
Knocked Up
was cleverly raunchy enough to satisfy my puerile taste, even if the movie didn't really make me guffaw at any point. It did remind me, though, of how much I adore
Paul Rudd
. What an underappreciated actor! He pretty much stole every scene he was in. I've loved that guy since
Clueless
.
Unrelatedly, I still have yet to satiate my filet-o-fish craving. Sad.