Yesterday, we went to Little Tokyo to get some yogurt from
cé fiore
, which, as I
blogged about before
, is a tasty facsimile of the wildly popular
pinkberry
(whose website, much to my dismay, no longer has its full version of
this catchy little ditty
).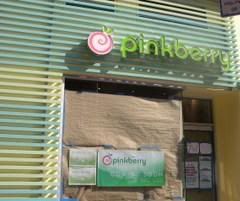 As we pulled into the loading zone in front of the Japanese Village Plaza, what did I spy directly across the street from
cé fiore
?
Unbelievable! A new
pinkberry
under construction! Just a few steps away! It's like
Starbucks
versus
The Coffee Bean & Tea Leaf
!
McDonald's
versus
Burger King
!
Borders
versus
Barnes & Noble
!
Well, not exactly. More like David versus Goliath. Poor
cé fiore
. I fear that not even its four flavors (original, green tea, blackberry, and pomegranate) and mochi can save it from the new behemoth that is
pinkberry
.
The good part of
pinkberry's
Starbucks-ization is that I am now one step closer to my long-anticipated head-to-head yogurt taste challenge. I will no longer have to rush one yogurt surrounded by ice in a cooler, as if it were a delicate organ to its new host, for an accurate comparison.