I love trying new restaurants, and I love when work is not so crazy, so I can get out of the office and try a new restaurant with my lovely co-workers. Pescado, Mansmell, Laborgirl, and I headed to
E3rd Steakhouse & Lounge
for lunch today.
After a ridiculous 40-minute circuitous drive through
Little Tokyo
and the
Arts District
(thanks to Mansmell and his lack of navigational skills or, rather, his failure to use the oh-so-magical and mystical
Google Maps
"to and from" functionality), we finally found the place. Fear not. It's really not that hard to get there. Mansmell is simply better suited to writing briefs, so don't pick him to be your partner for
The Amazing Race
.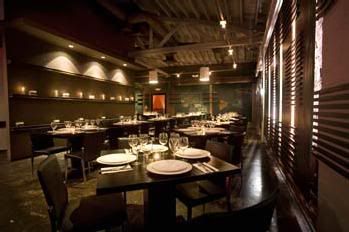 E3rd is like the little American-born brother of its neighbor,
Zip Fusion
, which shares the same owners. I would characterize E3rd as a steakhouse with Korean flair. The decor is modern with rich chocolate furniture, steel paneling, and polished concrete floors. A blackboard spans the entire back wall and is covered by whimsical chalk drawings. Rays of sunshine stream through a couple of skylights to offset the dark wood.
We each ordered a "Power Combo," which costs between $10 to $14 and consists of a main meat dish, soup or salad, and your choice of two of the following side dishes: kimchi mashed potatoes, french fries, sauteed mushrooms, green beans, or onion rings. Pescado and Mansmell both had the "e3rd Rib Steaks," mushrooms, and green beans. Laborgirl got "Sizzling Beef," mushrooms, and french fries.
I devoured "Chef Ahn's Imperial Rib," french fries, and onion rings. (I'm a sucker for fun names and artery-clogging side dishes.) My short rib was delectable -- savory and slightly smoky and tender enough to fall off the bone. My onion rings were golden and perfectly battered, and the onions themselves were sweet and succulent. The french fries were lightly fried potato planks with a dusting of various seasonings. Tasty, but a little thick for my liking.
The service was pretty good...notwithstanding the fact that, shortly after we placed our orders, a busboy spilled an entire glass of ice water on me and my unlined white skirt. I'm quite certain, had I stood up, everyone would've been able to see my underwear and the
monkey
on my butt. Awesome! (Note to self: Maybe it's time to buy big girl panties.) We were whisked to another table and then treated with extra care the entire meal -- a free ahi tuna salad to start and free green tea ice cream to end.
Fish, Mansmell, and Laborgirl thanked me for taking one for the team, and then we drove back to the office.
It took 10 minutes.