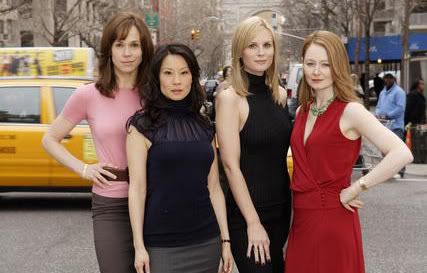 What do you get when you turn all four members of
Sex and the City
into Miranda? ABC's new offering to Wednesday nights at 10 p.m. (Tonight was a sneak preview.)
It remains to be seen if I will continue watching, but here were snippets that resonated for me tonight.
Juliet (

after finding out her husband is cheating on her

): Look at what a man gives up to be with one of us. We make more money. We rise higher. We take up more space. We are as far from the idea of a wife he grew up with as it's possible to be and still wear his ring and go by his last name.
[
Aside
: I don't even go by Mr. Monkey's last name. Eek.]
Jack (

while breaking off his engagement to Mia when she gets a promotion over him

): The truth is I'm gonna want someone to come home to. I'm gonna want kids. We're just moving in opposite directions.



Mia:

No, I want those things, too.



Jack:

Not as much as you want to win.
And, finally, this gem.
Zoe:

That whole having it all thing, I think it's a crock.
I'm crossing my fingers that this show remains semi-watchable. I hope these so-called powerful women don't degenerate into stupid whiny things.