There Will Be Blood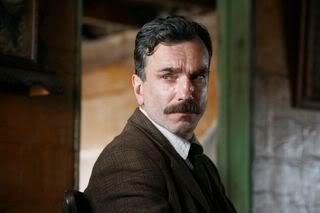 The first 14 minutes of this film has no dialogue. Then...welcome to Overacting City! I'd been putting off watching this movie because the screener was two discs long. Too long, too long, too long. I understand it's an epic sort of film, but I thought it was a tad heavy-handed. It was a powerful film, yes, but it was a bit much still. Both Daniel Day-Lewis and Paul Dano were absolutely over-the-top, but I can't fault them for that really. I blame the script and the direction.
I was also extraordinarily annoyed by the soundtrack, courtesy of Radiohead guitarist Jonny Greenwood. I found it discordant and incongruous to the film. I hate even more that critics have raved about the music. Ridiculous. I like Radiohead, but this just didn't work, and it was in no way as "revolutionary" as critics have touted. Honestly, it sounds like the soundtrack to
Lost
. Not impressed. Angered, in fact.
This is not to say that
There Will Be Blood
isn't interesting. It is. And, notwithstanding its length, it's a good film. It's just not *as* good as everyone claims it is. It could've and should've been better, and I hope that
No Country for Old Men
kicks its ass at the Oscars. Go, creepy Javier Bardem, go!
The Kite Runner
This is another film that could've and should've been better. Great story -- absolutely heartbreaking and heartwarming at the same time. But such a mediocre film. What a disappointment. Maybe I need to watch it again. Maybe I was too wiped out from watching
There Will Be Blood
to give this a fair shot.
Atonement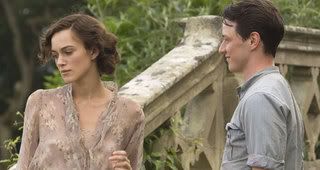 I hate Keira Knightley. Hate. I can't really explain exactly why, but I do. Even so, I appreciated
Atonement
. It was a beautiful film even though the story itself made me very angry. Knightley was actually quite good, and James McAvoy just melted my heart. McAvoy is not that handsome (in fact, I dare say he's somewhat
not
attractive; he did play Mr. Tumnus the faun in
The Chronicles of Narnia: The Lion, the Witch, and the Wardrobe
, after all
), but, boy, is he charming. I love him so.
As I mentioned before, the plot quite incensed me. I found it so unfair, but that's what made the movie so good -- it made me feel.
Atonement
isn't nearly as amazing as critics have implied, but it is a fine movie, especially for those who enjoy period pieces.
The Golden Compass
Funny enough, here's a movie I didn't think was as bad as everybody else warned me it was. There are tons of flaws, but I really loved the talking animals. They were so cute. In some ways, I'm easy to please. You just have to watch it, knowing it's not a very good movie, and then you won't be that let down.
National Treasure: Book of Secrets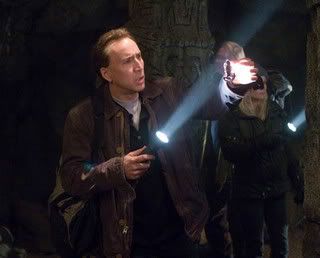 Now what the hell is this movie doing in this list? Hey, I watch dumb blockbusters as much as the next person does. And that's all this was. Whee.