3:10 to Yuma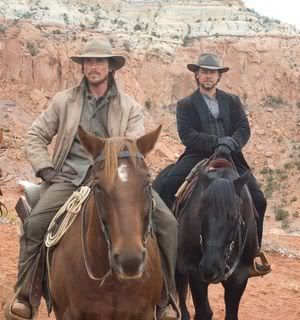 I'm not a fan of westerns (old-school or even Clint Eastwood-style), but, as far as westerns go, this one was well-made, even if I wasn't entirely enthralled. Both Christian Bale and Russell Crowe rocked it. Mr. Monkey really liked this flick, so this might be a good option to mollify your man.
No Country For Old Men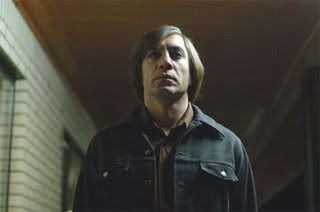 Javier Bardem is creeeeeeeepy to the max as a psychopathic murderous hitman. The movie is suspenseful, super gory, and not for the weak and queasy. The performances are excellent, even if the ending is huh?-inducing. Bardem is really something else in this film. Really.
Lars and the Real Girl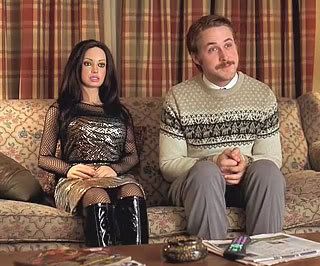 Sadly disappointing. I like Ryan Gosling, but this movie was so blah. It was not nearly as interesting as BBC's documentary series "
Love Me, Love My Doll
," which I watched several months ago. If you're interested, you can see a snippet
here
.
I realize the focus of
Lars and the Real Girl
is not the practice of loving a doll, but, rather, the care and support of family, friends, and neighbors when a person is having problems. I can't lie, though. I found the insightful BBC documentary regarding
Real Dolls
(open at your own risk -- not safe for work) far more intriguing.
Lars
was saptastic and irritating.