Eastern Promises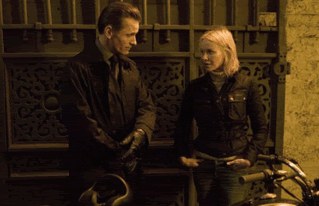 I really enjoyed this movie. Not only was the acting superb (yay for Naomi Watts and Viggo Mortensen), the plot is exciting and fast-paced. Be forewarned that some scenes are rather graphic, but they made sense (
i.e.
, they were not gratuitous). This Russian organized crime
exposé
is on DVD now, and I highly recommend you rent it...unless you don't want to see Viggo Mortensen totally naked and kicking somebody's ass. Notwithstanding Viggo's exposed nether regions, this is another good movie for boys.
Into the Wild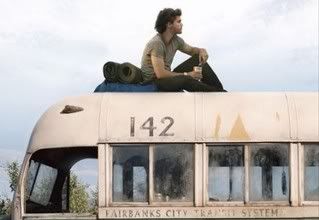 This is an elegant film, albeit a tad slow at times. Perpetually baby-faced Emile Hirsch does well as a real-life Christopher McCandless, a successful college grad turned self-proclaimed "supertramp." What does that mean? He leaves the shackles of money and society to go...into the wild. (Oooh.) McCandless strives to be a modern-day Jack London (or Jack London protagonist, take your pick), and his ultimate goal is to conquer Alaska. Along the way, he meets all sorts of characters, who grow to love him.
McCandless and his sister Carine (played by the always enjoyable Jena Malone) narrate this bittersweet
bildungsroman
, and, although it's not really a focal point of the film, the strong brother-sister tie that binds these two through their parents' tumultuous relationship really spoke to me. If you are an Eddie Vedder fan, you will love the soundtrack, which is entirely Vedder. It pains me to say it, but I liked something Sean Penn directed. He even adapted the screenplay himself from Jon Krakauer's book. Argh. Damn you, Sean Penn, and your skillz.
Dan in Real Life
I have to give Steve Carell a hand for playing semi-serious without evoking the reaction I usually get when I watch Jim Carrey attempt to play serious (with the exception of
Eternal Sunshine of the Spotless Mind
). Eek. Juliette Binoche is perfectly cast as the love interest; I've adored her since Krzysztof Kieslowski's
Bleu
. (Aside: If you haven't watched Kieslowski's Three Colors Trilogy --
Bleu, Blanc, Rouge
-- you must go rent them immediately.) Unfortunately,
Dan in Real Life
is little more than a decent date or family film. It's not award-worthy, in my opinion, but, if you're looking for a feel-good flick, here it is.